Your wishes – our joy, corporate gifts need not be any concern. Gift with a taste of the tasting experience in the gift package.
We'll be glad to hear from you!
Tailor-made packaging
We will make gift boxes for you according to requirementsto meet all your wishes and expectations. We produce all our boxes without a cut board, saving you costs while guaranteeing originality. With us, you don't have to worry about packing. Leave that to us!
Company Brand
We can mark each gift package with your company logo in any form. Therefore, you can choose from many combinations, how and where you want to place the logo. The most popular option for our customers is a compliment on atlas ribbon, embedded card or sticker on the foil window. It is therefore entirely up to you whether you choose a traditional brand or we make a printed ribbon or engrave the logo into a wooden ornament.
Determine the price of the package, we have the assortment in the milk!
Write us your idea of the gift package to fit in the company budget. We will be happy to draw up a selection of gift boxesfrom which you will be able to choose your favorite. With us you can choose a combination of assortment, appearance of packaging and mode of transport.
Snacks for everyone
Delicatess are the most important part of the gift package, so we devote our choice and tastings all year round and choose only the best for you. Since we, as well as quality, depend on timely delivery, we also focus on the reliability of our suppliers. Only in this way, we can always guarantee that gift packages will reach you in time and in first-class quality.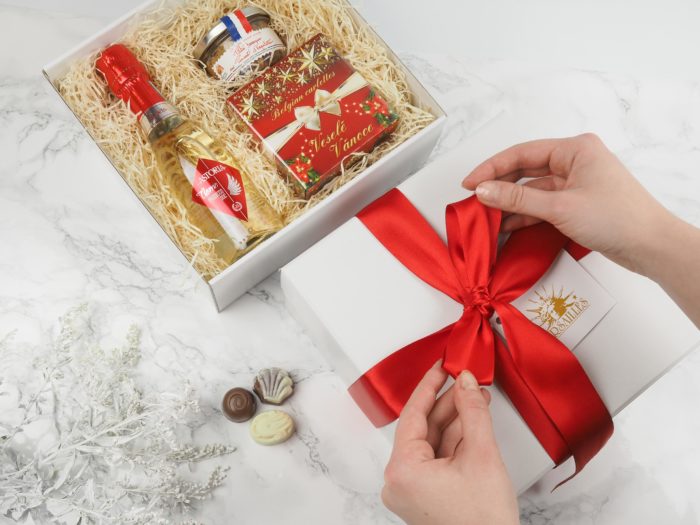 Friendliness and individual approach
We care about every detail, which is why we are always in contact with our customers and consult everything with the individual approach. All our production and assembly takes place under one roof and therefore we are also able to respond skillfully to your changes during the preparation of the whole order. Because your satisfaction and smile of the endowment is our priority.
Some of our business customers
"Prohibition on the sale of alcoholic beverages and tobacco products to persons under 18 years of age"/
"Because cheeses and sausages require refrigeration, we will contact you for refrigerated storage and subsequent transport."
Please note that in case of missing ordered assortment,
This assortment may be replaced by another item of the same kind and in case of this change, we will contact you.
Nutritional values are always sent with the order form for confirmation.
The photos are for illustrative purposes only.
Thank you for your understanding.