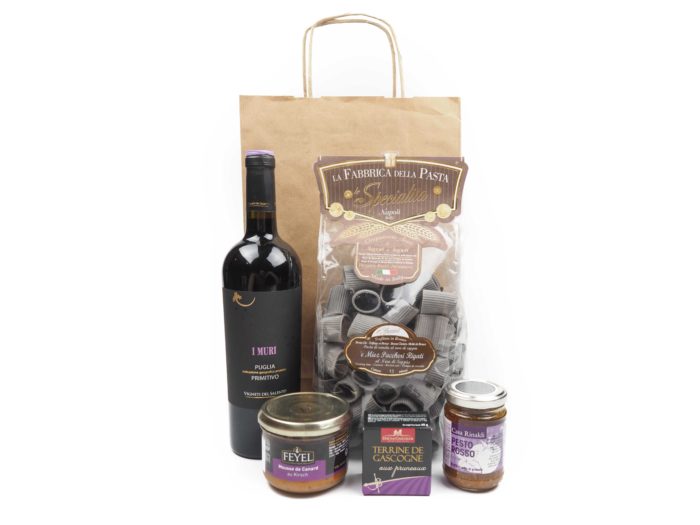 Kimbo Muri Gift Bag
Designation: TVP190703/7
Price excl. VAT: 537.00 CZK
Price incl. VAT: 649.80 CZK
Min. Quantity: 12 pcs
The gift bag contains Italian red wine, pasta with coffee accents, duck foam with cherry, gasp terrine with plum and pesto of dried tomatoes. Give a taste of tasting experience, wrapped in an elegant gift box.
✉ Send inquiry
Red wine I Muri Primitivo
Elegant red wine with a rich fruity aroma of black forest fruits and compoted fruit. To taste pleasantly warm with finely sweet tannin. Wine ready for consumption. Content 0, 75l.

Duck foam with Cherry
Duck foam with cherry is a delicious delicacy full of duck meat and a drop of cherry brandy. Enjoy the French delicacy and take a moment to the nearby France. Content 180g.
Gashorse terrine with plum
Pork terrine designed for real gourmets. Pork is accompanied by delicious plume, which will give the Terra a sweet and sour taste. Content 65g.
Dried pasta flavoured with coffee
Traditional Naples dry Egg-free pasta from semolina flour, in the form of a tube, inside hollow. The name comes from ancient Greece and in Italian means "pouch". The surface of the pasta is either smooth or knured (Rigati). They are usually served with sauces such as ragout and are also suitable for filling with meat or ricotta. Kimbo coffee Dough is a unique tasty product where the typical gold nuances of the dough give way to the intense and velvety coloured coffee color. Content 500g.
Pesto with dried tomatoes
Tomato pesto with basil has a creamy texture and is suitable for pasta or as an attachment to baked meat. It is also suitable as a complement to goat cheese and grilled fish. Content 130g.
Company brand option
A gift bag with snacks hides Italian red wine, pasta with coffee-touch, duck foam with cherry, gasping terrine with plum and pesto of dried tomatoes. The delicacies are packed In a natural brown bag, on which you can tie a satin bow.
To Make The gift perfect We offer the insertion or tie of personal compliments Or brand of the assortment itself.
Thanks to our own packaging production we can guarantee you original gift packaging according to your wishes and turnkey production in another version.
We prepare and assemble The gift packaging According to your wishes with all precision and attention to detail.
We will deliver The gift packages on the pallet according to your desired location.
The ability to build a custom gift package:
If you want to replenish your box full of delicious dishes and the box with other snacks, please send us your request with your assortment requirements or the final price of the package and we will prepare a tailor made offer.
Give the taste a little tasting experience, wrapped in an elegant gift box, which will be appreciated by all business friends, associates, employees and customers.
Illustrative photo. Please note that in case of missing ordered assortment,
This assortment may be replaced by another item of the same kind and in case of this change, we will contact you.
Nutritional values are always sent with the order form for confirmation.
Thank you for your understanding.