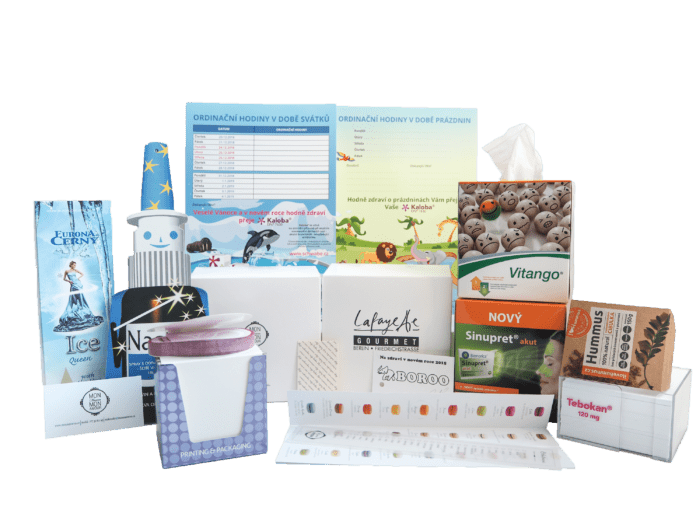 Press PR Materials
We offer sheet-fed offset printing, printing of company catalogues, advertising printed materials and PR material as well as mercantile. We print on the KOMORI printing machine-Lithrone S429H, in above-standard equipment and a high degree of automation, flexibility and productivity of printing.
The print size is 720 x 520 mm Color number 4
Print Products:
Company and Art Catalogues
Books, brochures, workbooks
Magazines, newspapers, posters
Leaflets, leaflets
Plates, stands, woblers
calendars, books, blocks
Receipts, business cards, cards
boxes, packaging, tags
Paper and PVC stickers
Large-Format printing
The large-size digital flatbed OCÉ Arizona GT 250 is full-colour printing on solid media , in photographic quality. It is suitable for printing exterior and interior large format photographs, advertisements and graphics, directly on any plate materials up to 5cm thickness (PVC boards, plastic, wood, cloth, canvas, sheet, cardboard, dibond, etc.). Production is equipped for high production printing of exterior applications by MUTOH Blizzard printer (banners, billboards, banners, stickers) in arbitrarily selected Dimension. We also offer lamination, shape cropping of stickers and plate material and cut self-adhesive graphics.
We can offer you unbeatable prices of prints in Max. Possible quality.
Large-size digital flatbed OCÉ Arizona GT 250
Direct printing:
PVC and aluminium plates (Forex, Kappa, Dibond)

Exhibition panels (vinyl, wood)

of large sizes, cartons
CD + DVD Media, plastic packaging

Laminated boards, doors, textiles, canvas

Floor Plate Materials
Maximum printable format:
250 x 125 cm and max material Height 5 cm
Large-size printing machine Roland VersaArt RS-640
Production printing
Billboards without limiting the format

Posters, poster and citylights

Banners and advertising sails

Meshe, netting, canvases and flags

PVC Foil, window foil
Maximum printable format:
Roll width 160 cm
Lightning-Fast procurement in digital low-cost printing -the fastest and most operational components.
Wide range, series for printing, various Gramme of printed matter and Graphic papers as well as various structured papers.
OCÉ CPS900 Platinum
Appearance of documents close to offset

Best-in-class colour stability

Equipment is exceptionally productive, prints at a constant speed regardless of paper type and weight.

Unique consistency of color areas

Reliable printing on a wide range of media, including structured

Support for media weights 75-250g/m2 (also Océ Top Colour Paper 300g/m2) and Max. 305 format x 457 mm

does not emit ozone
OCÉ CS231
Multifunction full colour laser printer/copier/scanner/fax

Tandem indirect electrophotographic printing, polymerized toner, without the use of fixative oil

A4 Print Speed: Up to 45 ppm, black to 45 pages per minute

Single pass automatic two-sided printing (without lowering the speed)

Print resolution: Equivalent 1800 x 600 dpi

Direct printing of PCL, PS files; TIFF and (encrypted) PDFS

Print overprints and watermarks

Brochures, reports

Leaflets, books

Cards, Woblers

Announcements, Invitations

menus, tags

Tickets, manuals

Passes, instructions
Graphic Studio
Quality and reliable data processing in prepress, creative graphic design equipped studio is fully compatible with all operations, data for any of them you can easily send us in any format
A rich experience of graphic designers for quality printing.
Equipment
Working MAC and PC
Workstations are equipped with Adobe Creative Suite CS2 and CS3 software

Workstations have calibrated EIZO and LaCie monitors
FTP Server Unlimited capacity
SCANER MICROTEK ScanMaker i900
Production and printing of cardboard packagings
Extensive cardboard production from smooth folding cardboard. They are jigsaw puzzles with printing, no printing, cutouts and intersections. Cardboard and other processing of corrugated cardboard. Printing is On the most modern offset format machines and on corrugated cardboard we print flexo method.
Products and products of cardboard cardboard
Enclosures intended for contact with foodstuffs
Folding cardboard packaging, printed with multi-coloured offset
Jigsaw without printing
Cutouts
Pads
Custom Products
Corrugated cardboard cartonnage including printing
Corrugated cardboard packaging of three-ply and five-ply
Static Posters
Doors, windows, walls, window covers, bar counters, monitors, refrigerators, kitchen cabinets, kitchen lockers, children's rooms and computers… All as a "poster area". The static poster will not damage the substrate. After Removing the static poster is not glue.
Advertising
It is a simple way to stay on the client longer in the office or at home.
In public places
Static poster for publicity in public places, eg. Waiting rooms and surgeons, pharmacies, offices, librarians. You will not damage the property with a sticker, glue or Pushpins.
Exhibitions, competitions, events
Static posters for events in hotels, conference centres and trade fairs. Fast, short and professional and spectacular presentation of corporate graphic identity eg. Install logos, orientation system, company visuals.
Direct Mail
Oiginal AD carrier-static poster-direct mail campaign.
Posters can be inserted in magazines and newspapers in various shapes, formats and designs.
Do you need an original gift for a colleague or a presentation on company training? We will produce a static poster for you from one piece. We print large costs with offset technology.