Gift box Treviso Chataignes
Designation: DKP190703/8
Price without VAT: 369,00 Kč
Price incl. VAT: 446,50 Kč
Min. Quantity: 12 pcs
The gift box in a natural brown box contains a genuine Italian Prosecco DOCG with French terrine with chestnuts. All delicacies are wrapped in an elegant gift pack with a satin-clad satin. Give a taste of a small tasting experience in the form of a seasold package.
✉ Send inquiry

Prosecco di Treviso
White wine from the Prosecco variety with a delicate persistent sparkling ness and a rich ethereal scent with tones of typical peaches and apricots and fresh fruit. Color platinum with reflections of white gold. Very fine with a decent smooth bead. Content 0, 75l.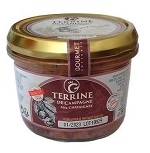 Farmer's terrine with chestnuts
Terina is a traditional dish of meat originating in France. It is prepared from a mixture of pork, veal or poultry meat, but also from duck or goose livers. This species contains larger pieces of meat than is the case with the classic pate. The delicious duck terrine with chestnuts will not leave any gourmets calm. Content 180g.
Company brand option
A gift package with delicacies hides true Italian Prosecco with french terinou enriched taste of chestnuts. The delicacies are packed In a natural brown paper box with a foil windowthat is made of smooth material and is stacked in a woody wave.
To Make The gift perfect we offer a printed box, satin bow or insert a personal compliment.
Thanks to our own packaging production we can guarantee you original gift packaging according to your wishes and turnkey production in another version.
We prepare and assemble The gift box According to your wishes with all precision and attention to detail.
We will deliver The gift packages on the pallet according to your desired location.
Possibility to build your own gift box:
If you want to replenish your box full of delicious dishes and the box with other snacks, please send us your request with your assortment requirements or the final price of the package and we will prepare a tailor made offer.
Give the taste a little tasting experience, wrapped in an elegant gift box, which will be appreciated by all business friends, associates, employees and customers.
Illustrative photo. Please note that in case of missing ordered assortment,
This assortment may be replaced by another item of the same kind and in case of this change, we will contact you.
Nutritional values are always sent with the order form for confirmation.
Thank you for your understanding.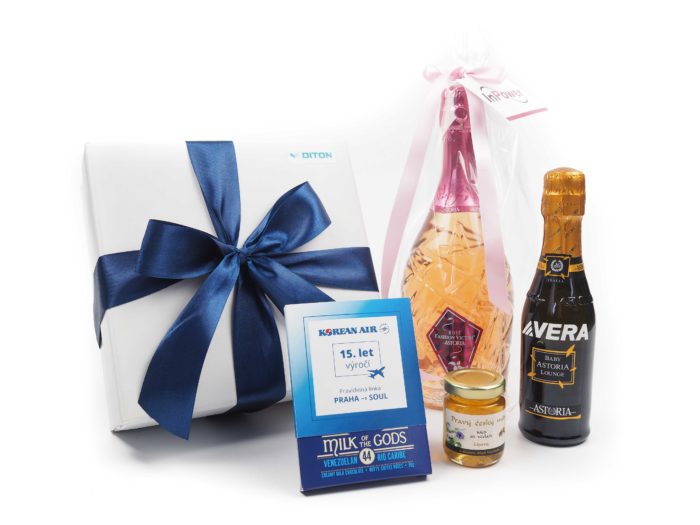 ' Prohibition on the sale of alcoholic beverages and tobacco products to persons under 18 years of age '