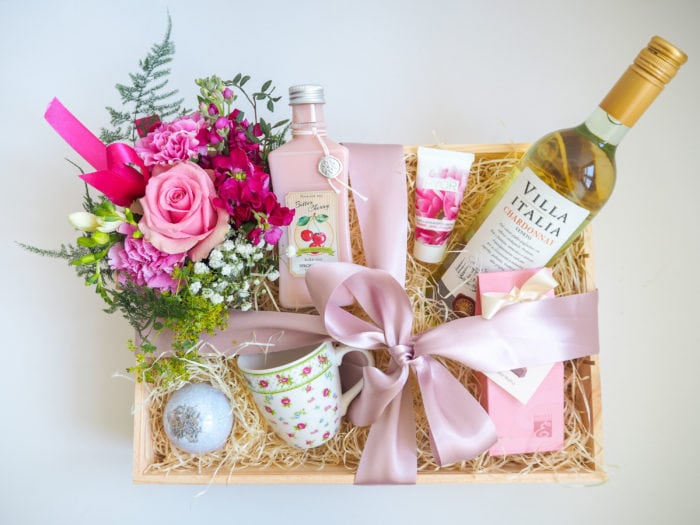 Gift package for pleasure and comfort
Designation: DB180725/16
Price excl. VAT: 1154.00 CZK
Price incl. VAT: 1396.30 CZK
Min. Quantity: 6 pcs
We present you an exclusive wooden box with a live flower and gifts that will delight all the senses. Make your next pleasure something untraditional and surprise them with a luxurious gift wrap. In the wooden box, the gifted will get quality Italian white wine, chocolate pralines from genuine Belgian chocolate, caring cosmetics in the form of a cream with amarante oil with silk, sparkling lavender bath bomb, cherry body soap and floral A mug that will always remember this breathtaking gift.
✉ Send inquiry
Villa Italia Chardonnay
The sun-drenched winery in the nearby Italy was grown from Chardonnay Vine, which is known for being among the dry white wines. Enjoy its harmonious, freshly velvette flavour and aroma. It is recommended to serve pasta, fish, white meat or vegetable salads. /small>
Chocolate Truffle Emoti Le Plaisir, 24 g
Belgian pralines hidden in pink candies are produced according to traditional Belgian recipes. Belgian chocolate is produced from a mixture of different cocoa beans, which carries a variety of tastes and fragrances. The company hides different kinds of pralines in every package, so you can always look forward to new chocolate combinations.
Cherry Shower Gel
Refreshing shower gel enriched with yogurt, which will make your skin silky delicate. It will give her a glowing look and freshness. Pamper yourself with this shower gel, which will surprise you with its scent of sweet sour cherries and almond. After a while bathing, transfer your mind to the cherry orchards strewn with spring flowers, gardens decorated with morning dew and rays seeping between the treetops.
Bath Sparkling bomb
In summer warm months we are surrounded by flowers, which in US inspire feelings of joy and happiness. Relax in the home-made lavender baths and tune your body for home-comfort. With lavender sparkling ball you can enjoy a bath full of lavender scent and soothing pleasures thanks to its relaxing abilities. The Aroma of lavender oil will bring you to the French lavender plantations, which are drenkled with warm sun rays for a small moment.
The sparkling ball is made by hand and can be used on more baths. Just remove it from the water for your chosen time and store it for future use.

Cream RYOR Hand Care
The skin needs its care and it will give it a day cream with a high percentage of amarante oil with a substance squalene, which effectively regenerates the skin and gives it antioxidant substances. Silk proteins give the skin brightness, softening it and softens it. The cream is suitable for daily use throughout the year.

Porcelain Mug
Enjoy your favorite hot drink in a cute floral mug that will always warm you up on your body. Whether you're giving tea or coffee every day or just in the winter season, you'll always remember the unique moment of a floral gift in every sip.

Company brand option
A gift package with delicacies hides Quality Italian white wine, chocolate truffles from Belgian genuine chocolate, caring cosmetics in the form of a cream with amarante oil with silk, sparkling lavender bath bomb, cherry body soap and floral mug. The delicacies are packed In a natural wooden box, which is tied with a satin bow.
To Make The gift perfect We offer the insertion or tie of personal compliments Or brand of the assortment itself.
Thanks to our own packaging production we can guarantee you original gift packaging according to your wishes and turnkey production in another version.
We prepare and assemble The gift packaging According to your wishes with all precision and attention to detail.
We will deliver The gift packages on the pallet according to your desired location.
The ability to build a custom gift package:
If you want to replenish your box full of delicious dishes and the box with other snacks, please send us your request with your assortment requirements or the final price of the package and we will prepare a tailor made offer.
Give the taste a little tasting experience, wrapped in an elegant gift box, which will be appreciated by all business friends, associates, employees and customers.
Illustrative photo. Please note that in case of missing ordered assortment,
This assortment may be replaced by another item of the same kind and in case of this change, we will contact you.
Nutritional values are always sent with the order form for confirmation.
Thank you for your understanding.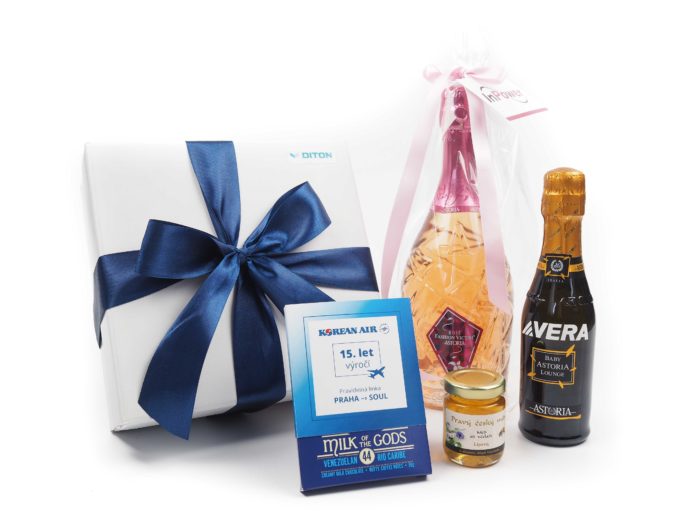 "Prohibition on the sale of alcoholic beverages and tobacco products to persons under 18 years of age"/
"Because flowers need gentle handling, we will contact you regarding storage and subsequent transport."