Gift box Meat flavors with nut chocolate
Designation: DKH190625/1
Price without VAT: 290,00 Kč
Price incl. VAT: 333,50 Kč
Min. Quantity: 12 pcs
The gift box in a natural brown package includes quality French duck mousse with armagnation, quality 70 dark chocolate with nuts and a proper handful of raisins and a true farmer's terine. All the delicacies are packaged in an elegant gift box. Give a taste of a small tasting experience in the form of a seasold package.
✉ Send inquiry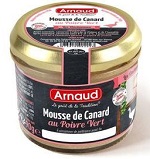 Duck mousse with Armagnac
A suitable combination of duck meat taste with Armagnac will bring real pleasure to your taste buds.
The Arnaud company was founded in the very heart of Limousin (Aixe sur Vienne) in 1969. This family-run company has been engaged in traditional production of pate and canned meat from the outset. Arnaud – The Taste of tradition, is a modern, dynamic company in the European market and boasts of quality and original products according to traditional recipes from selected raw materials without chemical products and dyes. Content 90g.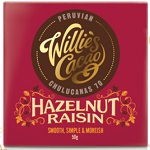 Willies 70 chocolate with nuts and raisins
Not only the nuts, but also others will succumb to a refined combination of crispy nuts and soft raisins, a taste-balancing sweet taste of nuts with raisin refreshment. All this poured in chocolate from cocoa beans Criollo will get you into euphoria and just not let go. Luxury packaging can be a great inspiration to the pleasure of loved ones. Content 50g.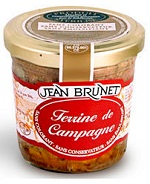 Farm terrine
French brand Jean Brunet is a long-time manufacturer of a wide portfolio of high quality products without any artificial additives according to traditional recipes, which can also be used on gluten-free diets.
Production dates back to the year 1895. Gourmet specialties and delicacies are offered by Jean Brunet in a wide variety of flavors in various varieties and varieties of pate – terrines, Paté, Confity and Riletes. Content 90g.
Company brand option
A gift package with delicacies hides quality duck mousse with Armagnac, 70 chocolate with nuts and raisins and French farmer's terine. The delicacies are packed In a natural brown paper box with a foil windowthat is made of smooth material and is stacked in a woody wave.
To Make The gift perfect we offer a printed box, satin bow or insert a personal compliment.
Thanks to our own packaging production we can guarantee you original gift packaging according to your wishes and turnkey production in another version.
We prepare and assemble The gift box According to your wishes with all precision and attention to detail.
We will deliver The gift packages on the pallet according to your desired location.
Possibility to build your own gift box:
If you want to replenish your box full of delicious dishes and the box with other snacks, please send us your request with your assortment requirements or the final price of the package and we will prepare a tailor made offer.
Give the taste a little tasting experience, wrapped in an elegant gift box, which will be appreciated by all business friends, associates, employees and customers.
Illustrative photo. Please note that in case of missing ordered assortment,
This assortment may be replaced by another item of the same kind and in case of this change, we will contact you.
Nutritional values are always sent with the order form for confirmation.
Thank you for your understanding.