Gift box Alcohol-free Italy
Designation: DKM190703/7
Price without VAT: 435,00 Kč
Price incl. VAT: 500,30 Kč
Min. Quantity: 12 pcs
Gift box Alcohol-free Italy in elegant dark blue with panes includes White Wine Geleé, duck terine with mushrooms, rosemary crackers, capers in coarse salt and extra virgin olive oil. All the delicacies are packaged in an elegant gift box. Give a taste of a small tasting experience in the form of a seasold package.
✉ Send inquiry
Lucien Georgelin White Wine Gelée
Jellyweds will delight very delicate and original flavors. Its smooth structure during tasting awakens the unknown aroma. Wine jellyweds consists of 50 wine, 50 sugar, spices and pectin. It is recommended to consume on pastries with spread soft cheese. Combined with creamy cheese, it offers an excellent appetizer. Content 150g.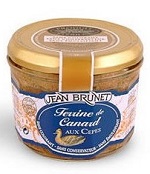 Jean Brunet Duck Terrine with Foals
Terina is a traditional dish of meat originating in France. It is prepared from a mixture of pork, veal or poultry meat, but also from duck or goose livers. This species contains larger pieces of meat than is the case with the classic pate. The delicious duck terrine with the foal will leave no gourmet in peace. Content 180g.
Bruschette con rosmarine
Traditional Italian crackers in the form of crispy stampers flavored with rosemary. Package content 50g.
Capperi al Sale 70g
Capers are the undeveloped flower buds of the flowers of the bush capers Thorny. Loaded in coarse salt. They use Mediterranean cuisine in salads, sauces, pasta, pizza and various meats or fish.
Olive oil extra virgin Levante
Edible vegetable single-species olive oil. Cold pressed mechanically within 24 hours of collection. Content 250ml.
Company brand option
A gift package with delicacies hides White wine geleé, duck terine with mushrooms, rosemary crackers, capers in coarse salt and extra virgin olive oil. The delicacies are packed in a dark blue paper box with inserts, tied with a satin mutton.
To Make The gift perfect We offer the insertion or tie of personal compliments Or brand of the assortment itself.
Thanks to our own packaging production we can guarantee you original gift packaging according to your wishes and turnkey production in another version.
We prepare and assemble The gift packaging According to your wishes with all precision and attention to detail.
We will deliver The gift packages on the pallet according to your desired location.
The ability to build a custom gift package:
If you want to replenish your box full of delicious dishes and the box with other snacks, please send us your request with your assortment requirements or the final price of the package and we will prepare a tailor made offer.
Give the taste a little tasting experience, wrapped in an elegant gift box, which will be appreciated by all business friends, associates, employees and customers.
Illustrative photo. Please note that in case of missing ordered assortment,
This assortment may be replaced by another item of the same kind and in case of this change, we will contact you.
Nutritional values are always sent with the order form for confirmation.
Thank you for your understanding.