Gift bag with Italian delicacies Pasta Peperonico
Designation: DT190407/5
Price without VAT: 424,00 Kč
Price incl. VAT: 513,00 Kč
Min.quantity: 24 pcs
A gift bag with Italian delicacies Pasta Peperonico with salty sticks with olives, dried tomatoes in olive oil, extra virgin olive oil with oregano and Italian pasta with chilli. The whole gift bag was assembled to prepare an excellent fresh Italian dish that will delight most lovers of Italian cuisine.
✉ Send inquiry
Grissini with olives
Salted bars with olives are perfectly suited to creamy soups or just for entertainment. Package contents 120g.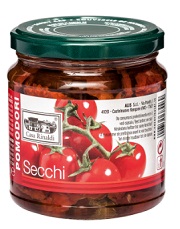 Cheese biscuits with 30 ripe Gouda cheese 80 g
Densely sprinkled with crunchy chia seeds. Pastry with intense and at the same time a delicate cheese flavor that will melt on your tongue.
Extra virgin olive oil with oregano
The presence of Rosemary gives this oil a penetrating and strongly aromatic scent. The oil is suitable for the preparation of many dishes, especially when baking or grilling different kinds of meats, or can be used to flavor baked potatoes but also to flavor pasta. Rosemary has an effect on good digestion also has an antioxidant effect. Content 250ml.
Linguine with Chili Peppers
Dried pasta from semolina flour with pepper. Enjoy Linguine Peperoncino with extra virgin olive oil and crushed garlic, or with vegetables and parmesan cheese. Package Contents 500g.
Company brand option
A gift bag with snacks hides salty sticks with olives, dried tomatoes in olive oil, extra virgin olive oil with oregano and Italian pasta with chilli peppers. The delicacies are packed In a natural brown bag, on which you can tie a satin bow.
To Make The gift perfect We offer the insertion or tie of personal compliments Or brand of the assortment itself.
Thanks to our own packaging production we can guarantee you original gift packaging according to your wishes and turnkey production in another version.
We prepare and assemble The gift packaging According to your wishes with all precision and attention to detail.
We will deliver The gift packages on the pallet according to your desired location.
The ability to build a custom gift package:
If you want to replenish your box full of delicious dishes and the box with other snacks, please send us your request with your assortment requirements or the final price of the package and we will prepare a tailor made offer.
Give the taste a little tasting experience, wrapped in an elegant gift box, which will be appreciated by all business friends, associates, employees and customers.
Illustrative photo. Please note that in case of missing ordered assortment,
This assortment may be replaced by another item of the same kind and in case of this change, we will contact you.
Nutritional values are always sent with the order form for confirmation.
Thank you for your understanding.