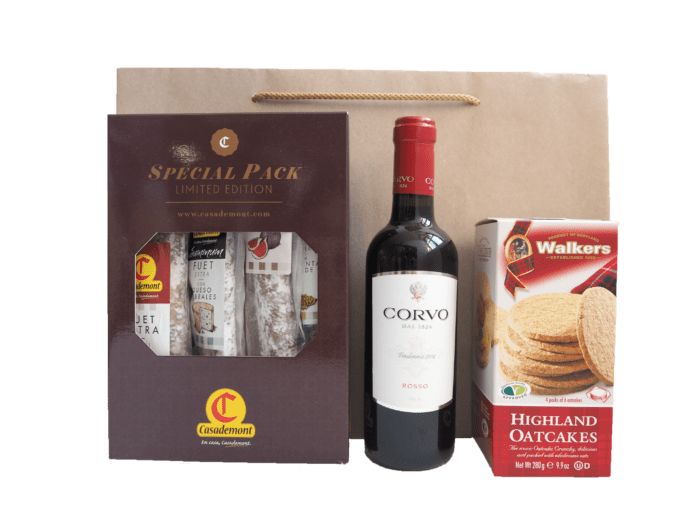 Walkres, Corvo,Gift set CASADEMONT fuety
Enjoyment of taste
Designation: TH010618
Price without VAT: 428,00 Kč
Price incl. VAT: 517,90 Kč
Min.quantity: 24 pcs
A gift bag full of delicate delicacies, which includes corvo red wine, English Walkers biscuits and a gift set with three kinds of salami. Donate the bag with gusto and make your gifted joy. In our company Versailles s.r.o., we hope that you will choose from us and choose the best gift bag as a thank you for your business partner or employee. For our services we also offer the insertion of a written thank-you card or the perfect tying of the bag with a textile ribbon with a print. This will give you a gift for every occasion and delight everyone.
✉ Send inquiry
Italian red wine CORVO ROSO
Italian red wine CORVO ROSO has been produced since 1824. Bottle contents 0,375 l. The manual harvest of this wine and maturation in two months guarantees a delicious taste of this wine.

Set of 4pcs mini fuets
CASADEMONT and its excellent fuety from a wide range of offers. Packed in a gift paper box and individually in bags.
Thick & Crunchy Oatcakes with Bran
WHOLEGRAIN OATMEAL PANCAKES WALKERS Content 300g.
Company brand option
A gift bag with snacks hides Corvo red wine, English Walkers cookies and gift set with three kinds of salami. The delicacies are packed In a natural brown bag, on which you can tie a satin bow.
To Make The gift perfect We offer the insertion or tie of personal compliments Or brand of the assortment itself.
Thanks to our own packaging production we can guarantee you original gift packaging according to your wishes and turnkey production in another version.
We prepare and assemble The gift packaging According to your wishes with all precision and attention to detail.
We will deliver The gift packages on the pallet according to your desired location.
The ability to build a custom gift package:
If you want to replenish your box full of delicious dishes and the box with other snacks, please send us your request with your assortment requirements or the final price of the package and we will prepare a tailor made offer.
Give the taste a little tasting experience, wrapped in an elegant gift box, which will be appreciated by all business friends, associates, employees and customers.
Illustrative photo. Please note that in case of missing ordered assortment,
This assortment may be replaced by another item of the same kind and in case of this change, we will contact you.
Nutritional values are always sent with the order form for confirmation.
Thank you for your understanding.