French Teriny Gift Box with 70 Chocolate
Designation: DKH190626/1
Price without VAT: 284,00 Kč
Price incl. VAT: 326,60 Kč
Min. Quantity: 12 pcs
The gift box in a natural brown pack includes a quality French confit of pork liver with peppers and olives, a farmer's terine with green pepper and 70 chocolate with ginger and lime. All the delicacies are packaged in an elegant gift box. Give a taste of a small tasting experience in the form of a seasold package.
✉ Send inquiry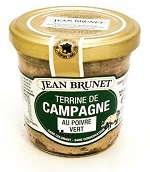 Farmer's pork terina with green pepper
Terina, or Terine, means roughly or finely chopped meat, which thanks to cast iron form it acquires even on its modified gastronomic appearance. Pork terina with green pepper is one of the high quality meat delicacies. French brand Jean Brunet is a long-time manufacturer of a wide portfolio of high quality products without any artificial additives according to traditional recipes, which can also be used on gluten-free diets. Content 90g.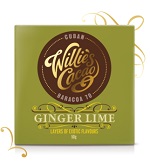 Willie's Cacao Ginger Lime – Cuban Baracoa 70 Dark Chocolate with Ginger and Lime
70 a table of chocolate from cocoa from the Baracoa area in Cuba, scented with the taste of lime and supplemented with pieces of ginger. You will feel the warmth of the first rays of the sun on the Cuban beaches. Content 50g.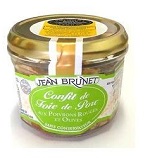 Jean Brunet Confit from pork liver with peppers and olives
This pork pate by Jean Brunet is a goodness in itself. Try a spicy variation with paprika and olives. The olives give the pate a taste, and in combination with good wine, the whole enjoyment is enhanced. Content 90g.
Company brand option
A gift package with delicacies hides quality farm terine with green pepper, 70 chocolate with lime and ginger and confit of pork with olives and peppers. The delicacies are packed In a natural brown paper box with a foil windowthat is made of smooth material and is stacked in a woody wave.
To Make The gift perfect we offer a printed box, satin bow or insert a personal compliment.
Thanks to our own packaging production we can guarantee you original gift packaging according to your wishes and turnkey production in another version.
We prepare and assemble The gift box According to your wishes with all precision and attention to detail.
We will deliver The gift packages on the pallet according to your desired location.
Possibility to build your own gift box:
If you want to replenish your box full of delicious dishes and the box with other snacks, please send us your request with your assortment requirements or the final price of the package and we will prepare a tailor made offer.
Give the taste a little tasting experience, wrapped in an elegant gift box, which will be appreciated by all business friends, associates, employees and customers.
Illustrative photo. Please note that in case of missing ordered assortment,
This assortment may be replaced by another item of the same kind and in case of this change, we will contact you.
Nutritional values are always sent with the order form for confirmation.
Thank you for your understanding.