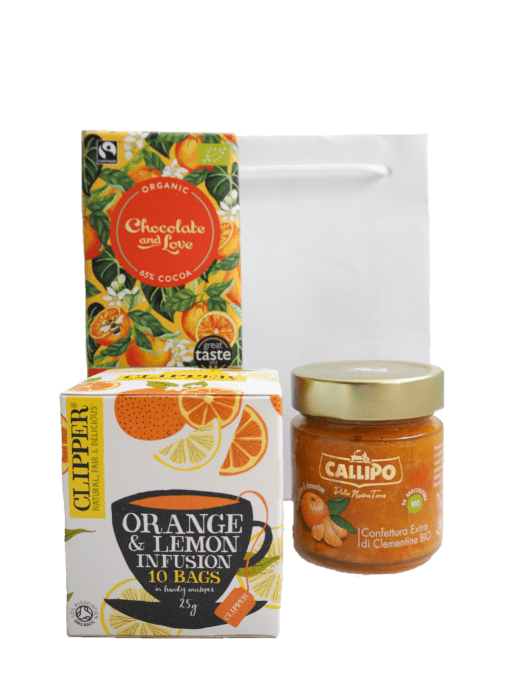 English tea, Callipo and organic chocolate
Designation: TB180618
Price without VAT: 396,00 Kč
Price incl. VAT: 479,20 Kč
Min.quantity: 24 pcs
Gift bag with English tea, tangerine jam and orange-lemon chocolate. From a rich selection of tea leaves is made English tea. With its fabulous taste of lemon and lemon grass and sweet orange, it will take you to tropical landscapes. Chocolate is made of 65 dark chocolate flavored with natural orange oil. With your taste, it will improve your mood and increase energy for the whole day. Mandarin jam from Calabria is made of the best tangerines that will enchant you with its exotic taste.
✉ Send inquiry
BIO fresh tea combination of lemon and lemongrass and sweet oranges
Tea bags packed in 10 bags. Ingredients: lemongrass, Lemon verbena, orange zest (10), lemon zest(10), licorice root, rosehip, aroma (3), orange aroma (2). Warning: Contains licorice, people with high blood pressure should avoid excessive consumption.
Orange BIO 65 Dark Chocolate and Love
Cocoa butter, cocoa mass, natural orange oil cane sugar, ground vanilla. Cocoa content: min. 65. It may contain traces of milk, hazelnut and bursa nuts and almonds. It does not contain gluten. All raw materials are BIO certified. Chocolate is kosher and is suitable for vegans. Weight: 80g

BIO Marmalade of mandarins from Calabria 300g
Ingredients: Mandarins, "Clementine," from Calabria (75), cane sugar*, lemon juice, *ORGANIC products. It does not contain gluten or preservatives, the product is suitable for a vegan diet.
Company brand option
A gift bag with snacks hides English tea, tangerine jam and orange-lemon chocolate. The delicacies are packed In a natural brown bag, on which you can tie a satin bow.
To Make The gift perfect We offer the insertion or tie of personal compliments Or brand of the assortment itself.
Thanks to our own packaging production we can guarantee you original gift packaging according to your wishes and turnkey production in another version.
We prepare and assemble The gift packaging According to your wishes with all precision and attention to detail.
We will deliver The gift packages on the pallet according to your desired location.
The ability to build a custom gift package:
If you want to replenish your box full of delicious dishes and the box with other snacks, please send us your request with your assortment requirements or the final price of the package and we will prepare a tailor made offer.
Give the taste a little tasting experience, wrapped in an elegant gift box, which will be appreciated by all business friends, associates, employees and customers.
Illustrative photo. Please note that in case of missing ordered assortment,
This assortment may be replaced by another item of the same kind and in case of this change, we will contact you.
Nutritional values are always sent with the order form for confirmation.
Thank you for your understanding.